Show It Off, LLC

Inflatable Games for All Ages & Occasions

Show It Off, LLC

918-232-1196

Locally Owned & Operated!

Welcome to Show It Off! We offer our customers the biggest and most unique Inflatables in Oklahoma. Imagine driving by a large festival and seeing a red, blue, & yellow inflatable slide. More than likely it would not even catch your attention. Now imagine driving by and seeing a huge 27ft long inflatable dragon slide. Not only would you look twice but you would probably stop to see what is going on. This is the difference that Show It Off makes, we not only get your event noticed, but take it to a whole new level!

Whether you need to rent Inflatables for festivals, school fundraisers, fairs, corporate picnics, church events, college parties, birthday parties, after prom parties, etc., Show It Off has an amazing selection of unique incredible Inflatables to rent.

Fall Promotion

Rent 2 Inflatables

Get 1 FREE

Rent 2 dry Inflatables from Show It Off, llc and get a 3rd additional dry Inflatable Free.! Third Inflatable must be of equal or lesser value than the other two. WATER INFLATABLES DO NOT APPLY to promotion.

Inflatables must be delivered to the same location on the same date. Offer not valid with any other promotion or coupon. Offer valid for rentals delivered during now til December 31, 2013.

We are located in Muskogee, OK and rent the following things:

* bounce house * bounce houses * moonwalk * moonwalks * inflatable * inflatables * spacewalk * spacewalks * inflatable slide * inflatable slides * obstacle course * obstacle courses * inflatable obstacle course * inflatable waterslide * inflatable waterslides * slide * slides * sticky wall * velcro wall * wrecking ball * slip n slide  * inflatable game * inflatable games * game * games * inflatable water slide * inflatable water slides

Muskogee Bouce House  * Muskogee Bounce Houses  * Muskogee Jumper  * Muskogee Jupiter Jump  * Muskogee Moonwalk  * Muskogee Moonwalks  * Muskogee Spacewalk  * Muskogee Spacewalks  * Muskogee Inflatable  * Muskogee Inflatables  * Muskogee Inflatable Slide  * Muskogee Inflatable Slides  * Muskogee Obstacle Course  * Muskogee Inflatable Obstacle Course  * Muskogee Obstacle Courses  * Muskogee waterslide  * Muskogee Waterslides  * Muskogee sticky wall  * Muskogee velcro wall  * Muskogee wrecking ball  * Muskogee inflatable game  * muskogee inflatable games  * Muskogee game  * Muskogee games  * Muskogee Inflatable Joust  * Muskogee joust  * Muskogee inflatable basketball  *Muskogee inflatable football * Muskogee water slide * Muskogee water slides * Muskogee infatable rental * Muskogee inflatables * Muskogee inflatable rentals

NOW OPEN

Show It Off, LLC

Family Entertainment Center

Located at the Love-Hatbox Hangar in Muskogee

Inflatables setup in an indoor facility for private parties!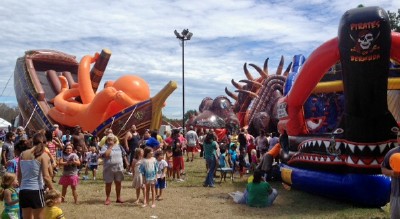 Introducing MELTDOWN, the new multi player action game!  Meltdown is a game designed to challenge your agility, balance and endurance. Either duck or jump over the two spinning beams or get wiped out!

Up to 8 players can enjoy Meltdown at any one time!

Click for more details